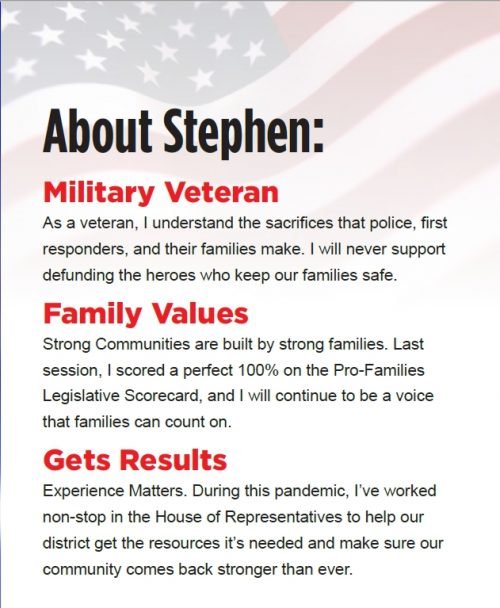 With your support, as we recover from these difficult times, I and my fellow Republicans are committed to:
Renew The American Dream
With your vote I will propose a Constitutional Amendment allowing the General Assembly to phase out personal property tax. Imagine not having to get your vehicle(s) assessed and pay taxes on them year after year after year. You will finally own them free and clear! It will make our lives a little simpler and you can keep more of your money to invest in your American dream.
Restore our Way of Life
Strong communities are built on strong families. I have been endorsed by Arkansas Right to Life and received a perfect 100% on the Pro-Family Legislative Scorecard. I have been and will continue to be a strong advocate for our families. As a veteran, I will continue to support our police officers, first responders, the military and my fellow veterans.
Rebuild the Greatest Economy
As Chair of the Technology Committee, I am leading the effort in the House to ensure all Arkansans have access to high speed, reliable, and affordable Broadband. Based on my recommendations the Governor and General Assembly just approved $100 million in the state's first major investment in broadband. Your vote will allow me to continue my efforts to make sure this valuable technology is available for student's education, increased healthcare access and more business opportunities.
Latest News from Facebook
Keep Conservative Republican Leadership in Little Rock.  
Endorsements:

Arkansas Right to Life
NRA – "A Rating"
Faulkner County Sheriff Ryals
JP Jerry Boyer
Awards:
Family Council's


Statesman of the Year Award




Pro-Family Legislative Score: 100%

Chamber of Commerce 


Business Matters Leadership Award for 2019
Committees I Serve On: 
Education
Agriculture, Forestry and Economic Development
Joint Budget  (Special Language Subcommittee)
Advanced Communications and Information Technology, Chair
Contact Information:
Social Media: 
General Information:
Twitter Feed


If you go to the General Assembly website you can watch the agency discussion where they went into it in detail. It's ALC near the end of the meeting where they went over it. https://t.co/xsfTZErCcA

The Dept. of Commerce is giving us an update of the claims they've handled. This gives you an idea of the incredible effort they made.

2019 Total UI Claims: 61k

2020 Total UI Claims: 464k
2020 Total PUA Claims: 252k

2019 Fraud Claims: 10
2020 Fraud Claims: 32k (4.5%)

#arleg
 Did you know:  Rep. Meeks is the senior member of the Arkansas House of Representatives.